PROFESSIONAL MUSIC & LIGHTING PROVIDED
DISCO BALLS, BUBBLE MACHINES AND ALL TYPES OF LIGHTING AVAILABLE
GLOW IN THE DARK/ UV FACE PAINTING
NOT MUCH YOU HAVE TO DO FOR THESE EVENTS - JUST BRING THE ROOM AND THE CAKE, WE'LL DO THE REST
PRIZES FOR ALL THE CHILDREN
KID'S DISCO PARTY MELBOURNE
Dance Fusion disco parties are up-beat with non-stop fun catered for all ages and all group sizes!
Your host leads the children in fun dance based games, competitions, sing-a-longs and more. Your host comes
prepared with the best music and activities to suit the children's depending on their age and the group size – after all every party is different!
Unlike other disco's your host is involved engaging the children from start to finish.
By the end of the party the children are often exhausted from all of the fun they have had!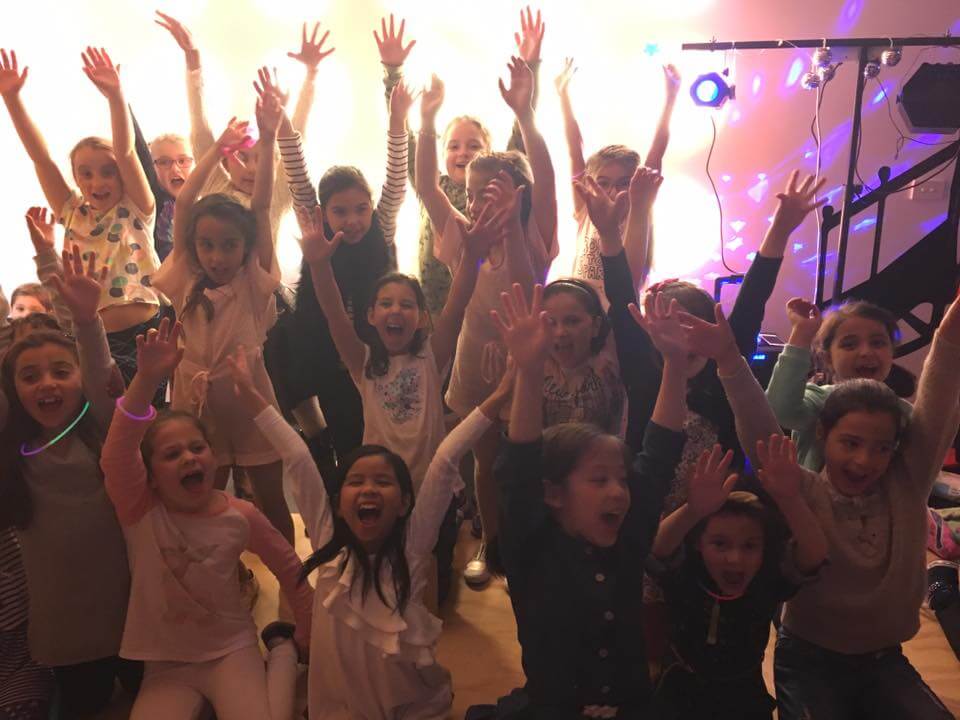 CHECK OUT OUR DANCE FUSION PARTY PROMO VIDEO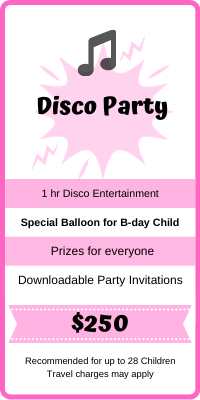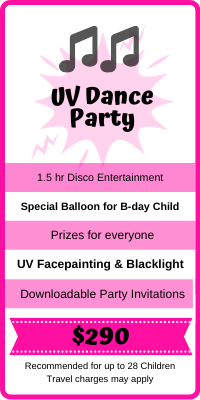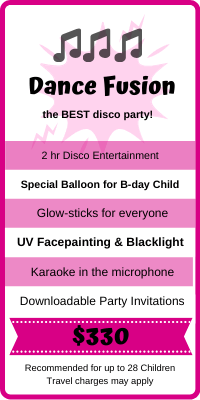 Testimonials & Featured CUSTOMERS
"I was beyond impressed by the professionalism of Kiddly-Winks Children's Entertainment. They really went above and beyond in listening to our needs and creating a package that fitted our corporate event. On the day the team was so full of energy it made it extremely stress-free for us! The face painting, balloon artistry and games were of such a high caliber, I would highly recommend this company to anyone planning a children's party or event!"
Highly recommended by "The Walt Disney Company."
Dazzle came to my daughters 4th birthday party and was absolutely fabulous! The kids loved her, her face painting was first class and her magic show was perfect for the kids and entertained the parents too!! Would have no hesitations recommending her to others and would definitely book thru Kiddly-winks again
Michelle and her team have been a tremendous asset to our business for several years now. We would highly recommend her services, as they always exceed our clients' expectations. Her enthusiasm and fun personality are sure to make your party a hit!
Joy Kinczel, Manager, Daydreamers Indoor Play Centre
We booked Zoom for our sons 4th birthday and the kids absolutely loved her, even the parents were mesmerized. The face painting, magic tricks and balloons were all exceptional. We will definitely have Zoom back for future birthdays.
My daughter recently celebrated her 7th birthday party at home, and we had a guest performance from "Zoom The Clown" which was topped off with extraordinary balloons, and we had the Kiddly Winks Frozen Castle which was enjoyed by all the boys & girls. The kids had an amazing time, and even the parents enjoyed Zooms performance. Highly recommend it to anyone. The service was fantastic!
Kiddly-Winks Children's Entertainment is all about making kid's smile, providing professional services in:
Face Painting, Balloon Twisting, Magic Shows, Games, Toddler Activities, Jumping Castles and Disco Parties!
Our team of clowns, fairies, superheroes and popular characters just love making kid's smile. Let us turn your kid's party or event into something really special, it's what we love to do!
Servicing all of Australia – Melbourne, Sydney, Brisbane, Sunshine Coast, Gold Coast, Perth, Adelaide and pretty much everywhere else in between.