What's an online party? You may have heard about Virtual Kids Parties? They're a really great way to get the kids (and their families) together, interacting and engaging with live video entertainment by us.
GET INSTANT ONLINE VIRTUAL VIDEO PARTY PRICING
OVER 300+ ★★★★★ 5 STAR ONLINE PARTY FOR KIDS PARTY REVIEWS
COMPETITIVE VALUE ONLINE VIRTUAL PARTY PACKAGES
ONLINE VIDEO ENTERTAINMENT EXPERIENCE YOU CAN COUNT ON; 11+YEARS
IMPORTANT NOTICE: Your child CAN have a party! 🎉 Fun is NOT cancelled due to COVID-19!
Until further notice 🚨It's online virtual video party time!!
We're pleased to announce that we have some fantastic "stay at home" virtual entertainment options to keep your kids smiling on their birthday – or just for some self-isolation fun, or maybe even a reward for good school efforts at home? 🤔
Make an enquiry and we'll come back to you with all of the available online video party options. 
You may have heard about Virtual Kids Parties?
They're a really great way to get the kids (and their families) together, interacting and engaging with live entertainment by us… all done online via video (aka zoom).
The children still get to experience what's important at a birthday party (it's just done virtually online):
There's a lot of fun, with magic games and puppetry!

The birthday child gets made a fuss over, taking part in making the magic happen.

There are take-home (downloadable) goodies for before and after the show. 

And, we even sing Happy Birthday with a (magical appearing) cake!
Virtual online video entertainment sessions can be specifically for birthdays or, just for a fun!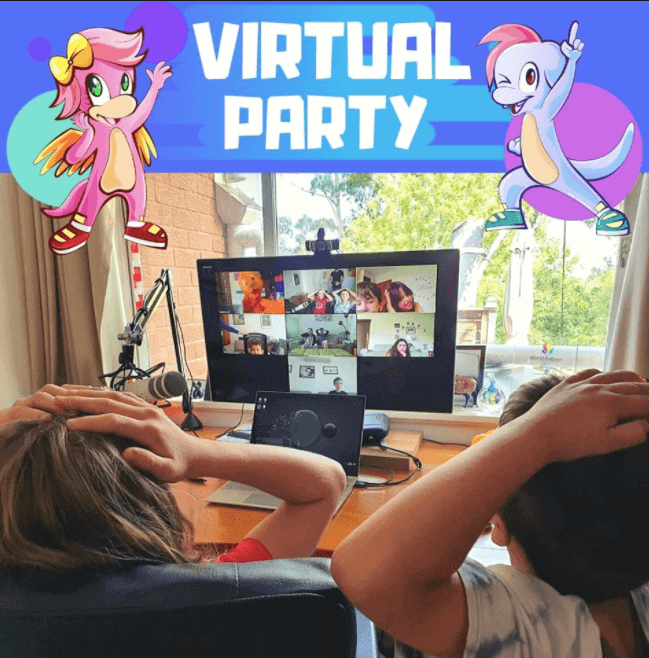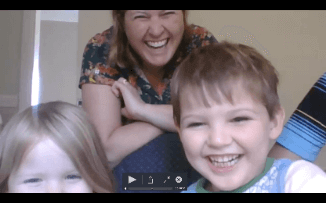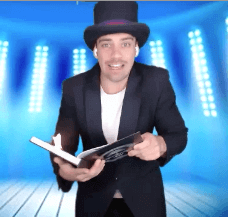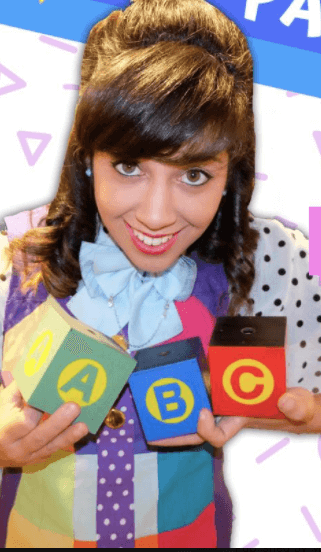 Before your scheduled show, we send thru a pre-online virtual enetertainment show pack.
The pre-show activities include:
Printable name cards for the children to decorate and personalise (to display during the show)

An art and craft activity where children will create their own magic hat to wear during the show plus a birthday cake colouring page to personalise and display during our "cake time" segment.

The post-show goodie pack includes a fun activity sheet plus a DIY magic trick craft activity so that your child can become a magician themselves.
Understandably many people are not in a position to be spending money at the moment, being conscious of that we
have tWO online virtual kids entertainment options available: 
Virtual Online Pack 1
For the full experience  outlined above including:
Pre/post activities
A video of the party entertainment to for keepsake
Up to 45 minutes extra time for the entertainers to hang out after with guests afterwards 
 Just $95
Virtual Online Pack 2
No virtual bells and whistle, this is for the show only. 
Just $75
ONLINE VIRTUAL ENTERTAINMENT REVIEWS
"This is a wonderful experience for children of all ages! Michelle is amazing and the tricks and characters are relevant for all occasions! Our son thought his experience was 'super' and loved Jackson the Dog! He has the biggest smile on his face. Thank you so much!"
Can't thank Michelle and Matt enough for coming to the rescue last minute when my son's 9th birthday had to be cancelled because of COVID. Matt put on an awesomely fun, age appropriate show of magic, quiz's & dancing for the boys. My son loved it! Thanks again"