Adds colour and excitement to your event
Incredibly talented artists, skilled in both basic and advanced balloon designs
Can cater for groups of all sizes
We use biodegradable balloons
GET INSTANT BALLOON TWISTING PRICING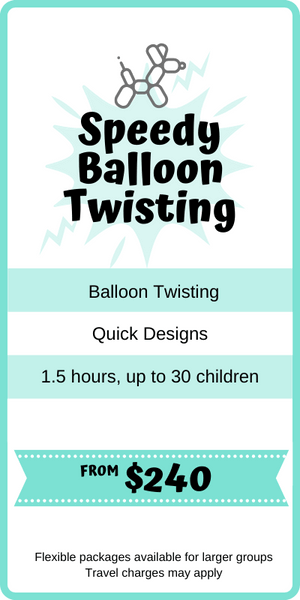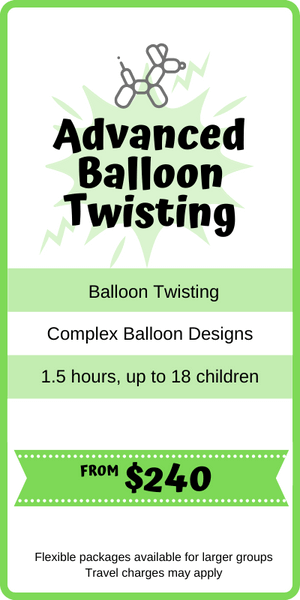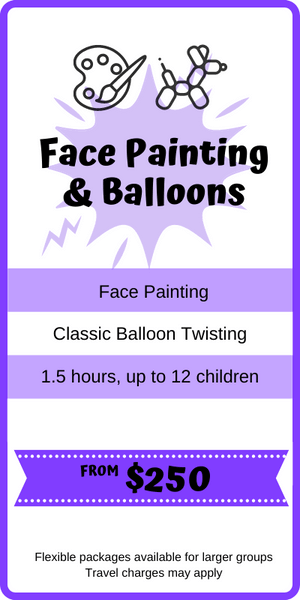 BALLOON TWISTING MELBOURNE & AUSTRALIA WIDE
Bring colour and excitement to your kids party or event with brilliant advanced balloon creations!
We have two kinds of balloon twisting services, advanced balloon twisting and regular balloon twisting. 
Advanced Balloon Twisting is something that has to be seen to believed, our entertainers often "wow" both children and adults alike as they skilfully twist up to 10 balloons together to create amazing creations such as cartoon character, super heroes, mermaids, princesses, helicopters, crazy hats, skeletons, you name it! Advanced balloon twisting is a really unique and impressive skill that adds colour and excitement to any party or event! Hey, it's even a great ice breaker for an adults party; Prepare to be amazed!
Regular Balloon Twisting is great if quantity is what you're after! Our entertainers can create from single balloons many various animals, hats, flowers and weapons!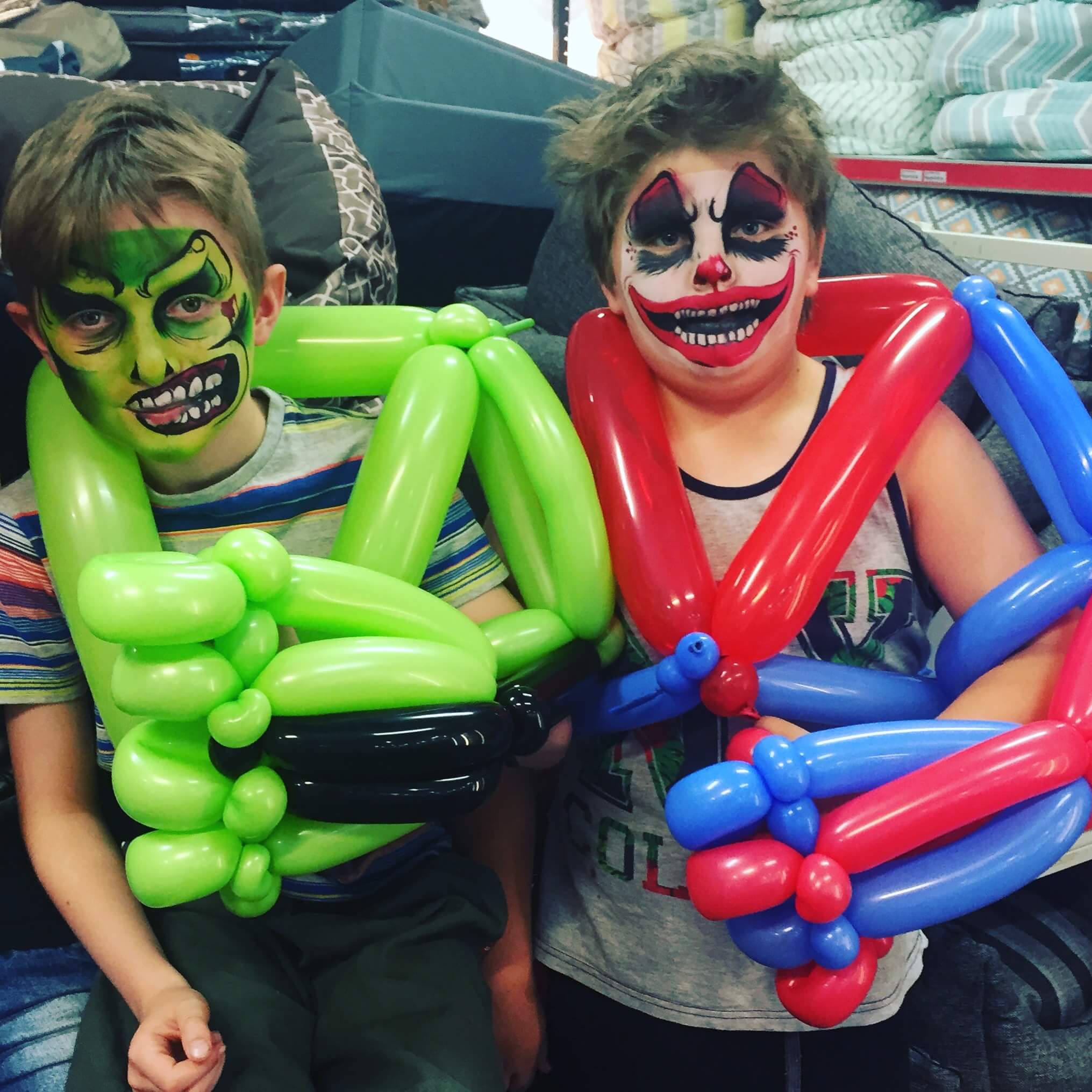 We have excellent BALLOON TWISTING SERVICES – check out some of our BALLOON TWISTING event photos
BALLOON TWISTING WORKSHOPS
Looking for something a little different?
Engage kid's in the creative art form of balloon twisting!
Your skilled balloon twisting instructor takes the children through the basics of balloon twisting in a fun and hands on way.
All balloons are pre-blown up, so no knot tying skills needed. Each child gets to make and take home 3 twisted balloons plus one crazy hat!
This is a great activity for school holiday programs, or even parties with children aged 5 and up.
As you can see by the below pictures, the kids have a blast of a time.
How many balloons do the entertainers make in one hour?
If you select Advanced Balloons, the entertainer can make up to 15 balloons per hour.
If you select regular balloon twisting, the entertainer can make up to 30 balloon designs per hour
Do you do adult parties?
Absolutely! We can create fun G rated balloon that your adult guests will love!
We've provided balloon twisting at awards nights, hen's parties, 30th's and more.
Do you provide balloon twisting for charities/not for profits/kindergartens?
We like to be able to look after those who are in turn looking after others, so for these kind of events we offer incredible discounted rates. 
Please contact us for your quote. 
What's the difference between Advanced Balloon Twisting and Regular Balloon Twisting?
Examples of Advanced balloons can be seen in the below pictures, they are made using many balloons per design. 
Regular balloons are made out of one or two balloons, they are balloons you may have seen before such as dogs, swords, flowers etc. 
Please contact us for your quote. 
Balloon Twisting Testimonials
"I was beyond impressed by the professionalism of Kiddly-Winks Children's Entertainment. They really went above and beyond in listening to our needs and creating a package that fitted our corporate event. On the day the team was so full of energy it made it extremely stress-free for us! The face painting, balloon artistry and games were of such a high caliber, I would highly recommend this company to anyone planning a children's party or event!"
Highly recommended by "The Walt Disney Company."
Dazzle came to my daughters 4th birthday party and was absolutely fabulous! The kids loved her, her face painting was first class and her magic show was perfect for the kids and entertained the parents too!! Would have no hesitations recommending her to others and would definitely book thru Kiddly-winks again
Michelle and her team have been a tremendous asset to our business for several years now. We would highly recommend her services, as they always exceed our clients' expectations. Her enthusiasm and fun personality are sure to make your party a hit!
Joy Kinczel, Manager, Daydreamers Indoor Play Centre
We booked Zoom for our sons 4th birthday and the kids absolutely loved her, even the parents were mesmerized. The face painting, magic tricks and balloons were all exceptional. We will definitely have Zoom back for future birthdays.
My daughter recently celebrated her 7th birthday party at home, and we had a guest performance from "Zoom The Clown" which was topped off with extraordinary balloons, and we had the Kiddly Winks Frozen Castle which was enjoyed by all the boys & girls. The kids had an amazing time, and even the parents enjoyed Zooms performance. Highly recommend it to anyone. The service was fantastic!