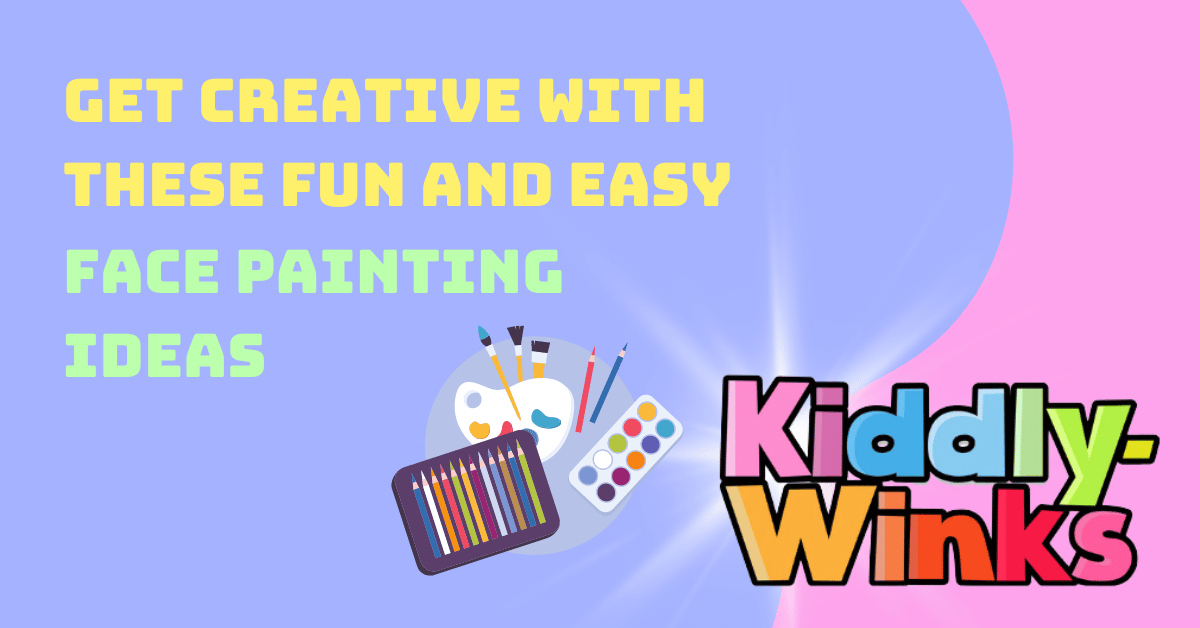 Get Creative With These Fun and Easy Face Painting Ideas 2023

I've been doing face painting for more than twelve years now, and let me tell you, the creative possibilities are seriously limitless!
Starting out with face painting can be daunting, but with practice, your skills will improve. Don't get disheartened if you're a beginner – every stroke of the brush will bring you closer to creating your own masterpiece.
In this blog, I will share some exciting and easy-to-follow face painting ideas to inspire you. Whether you're a beginner or an experienced painter, these ideas will help you create stunning designs that are sure to impress.
So grab your paintbrush, and let's get started! Btw, I'm Matthew, the co-director of Kiddly-Winks Children's Entertainment.
Here's a list of key Face Painting supplies you'll need:
1. Water spritzer

2. Water tub

3. Brushes

4. Glitter

5. Sponges
6. Makeup wipes
7. Hand towel
8. Lots of paints!
You can purchase everything directly from the Kiddly-Winks Store!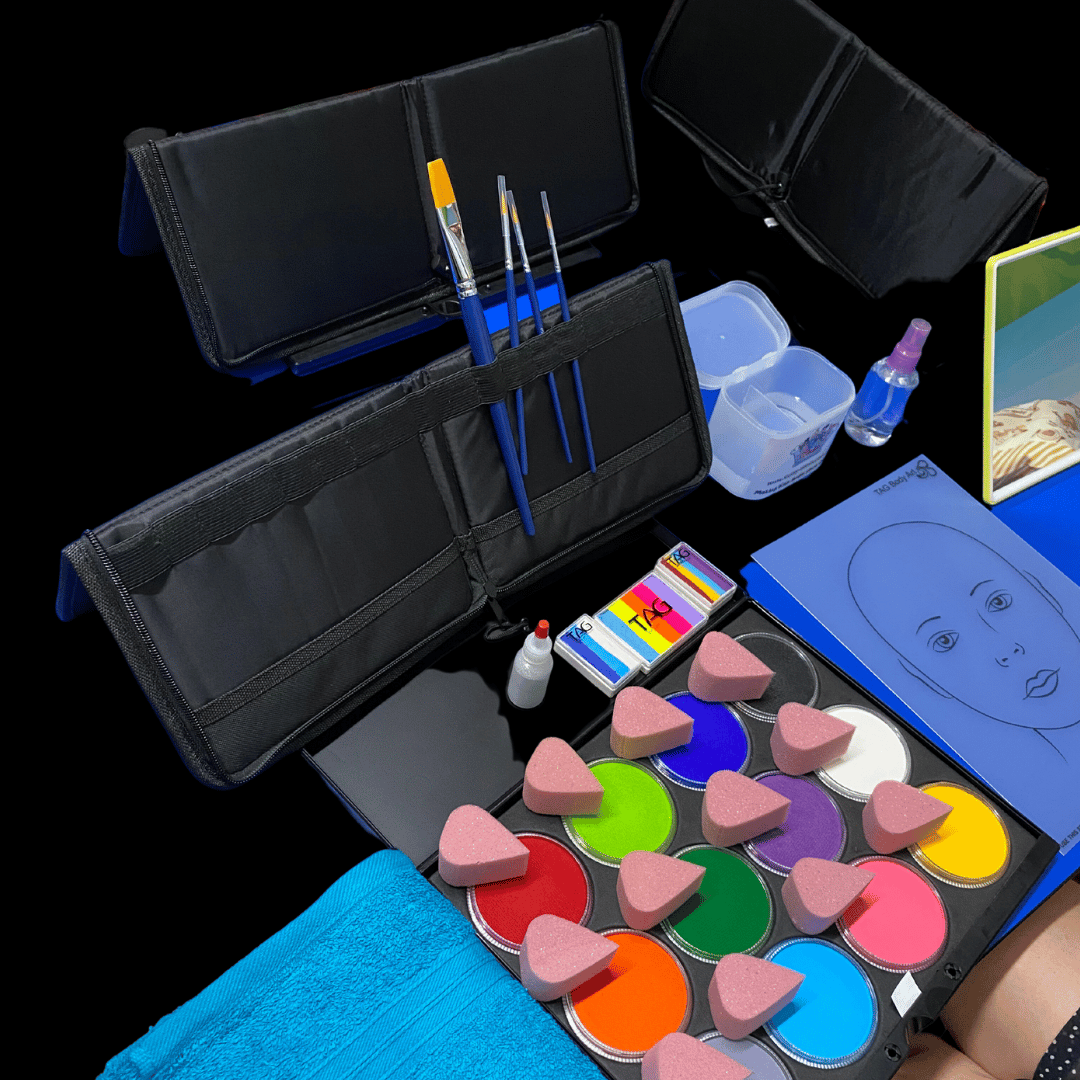 You will learn six face paint designs
Learn Butterfly Face
Paint
To create a realistic butterfly, choose split cakes that have different shades of the same colour for shading and depth. This will give a more dimensional look to the butterfly wings.

When creating the butterfly wings, use the sponge to gently pat the colour onto the skin.

Ensure that the bottom of the wings does not extend past the nose, while the top wings reach halfway up the forehead. This will create a balanced and visually pleasing look.

When outlining the wings, use a small brush to create a fine line. Start from the corner of the eye and go up and around until you reach the outside of the eye.




T

ip: Achieve the effect seen in the image below by using an angle brush.

Paint the body and antenna with a different colour than the wings. This will create a distinct separation between the wings and the body.

When creating the black line down the middle of the face that tapers towards the end of the body, use a thin brush to create a smooth and straight line.

Finally, add two antennae extending from the top of the body towards the middle of the forehead. And don't forget to add lots of glitter for that extra shine and sparkle!
Check out this 'Butterfly Face Paint' Below: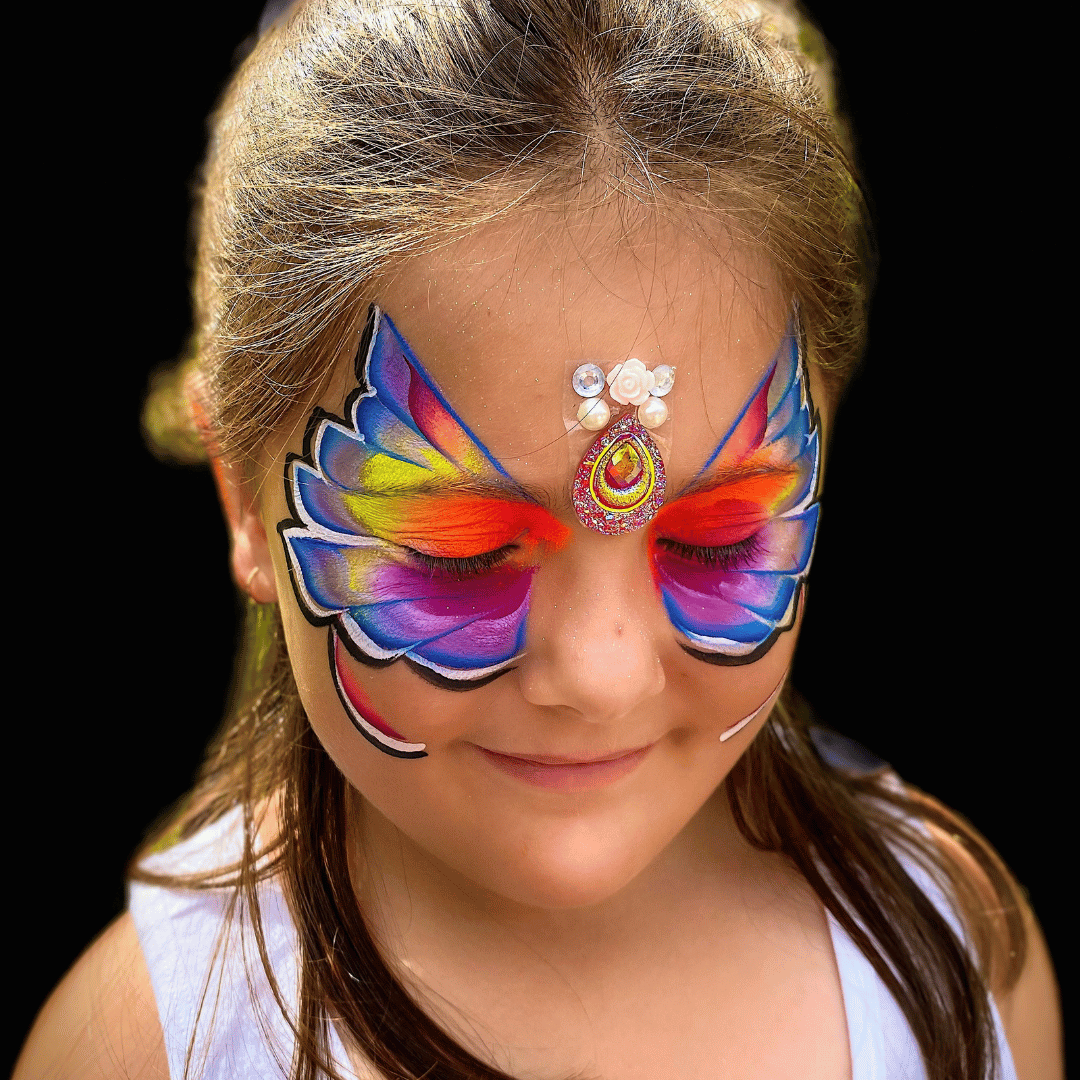 Learn Superhero Face Paint
Start by using the face paint of your choice to create a mask that covers around the eyes. Make sure to

pick the colours that match your favourite superhero! For example, red for Spider-Man.




If your child is a fan of Flash, Captain America or Wonder Woman, consider adding white paint around the forehead and cheeks to create a lightning bolt or hero emblem. This will make the mask look even more authentic and cool.




Use black paint to add outlining and small details. This will give the mask a finished look that will make your child feel like a true superhero.

Finally, add glitter for a glamorous touch. Not only will this make the mask look extra special, but it will also add a touch of sparkle to your child's day!

And voila! Your child is now ready to take on any challenge as a superhero, with a mask that is uniquely their own. Remember, the possibilities are endless when it comes to creating a superhero mask, so let your child's imagination run wild!
Check out this 'Flash Face Paint' Below: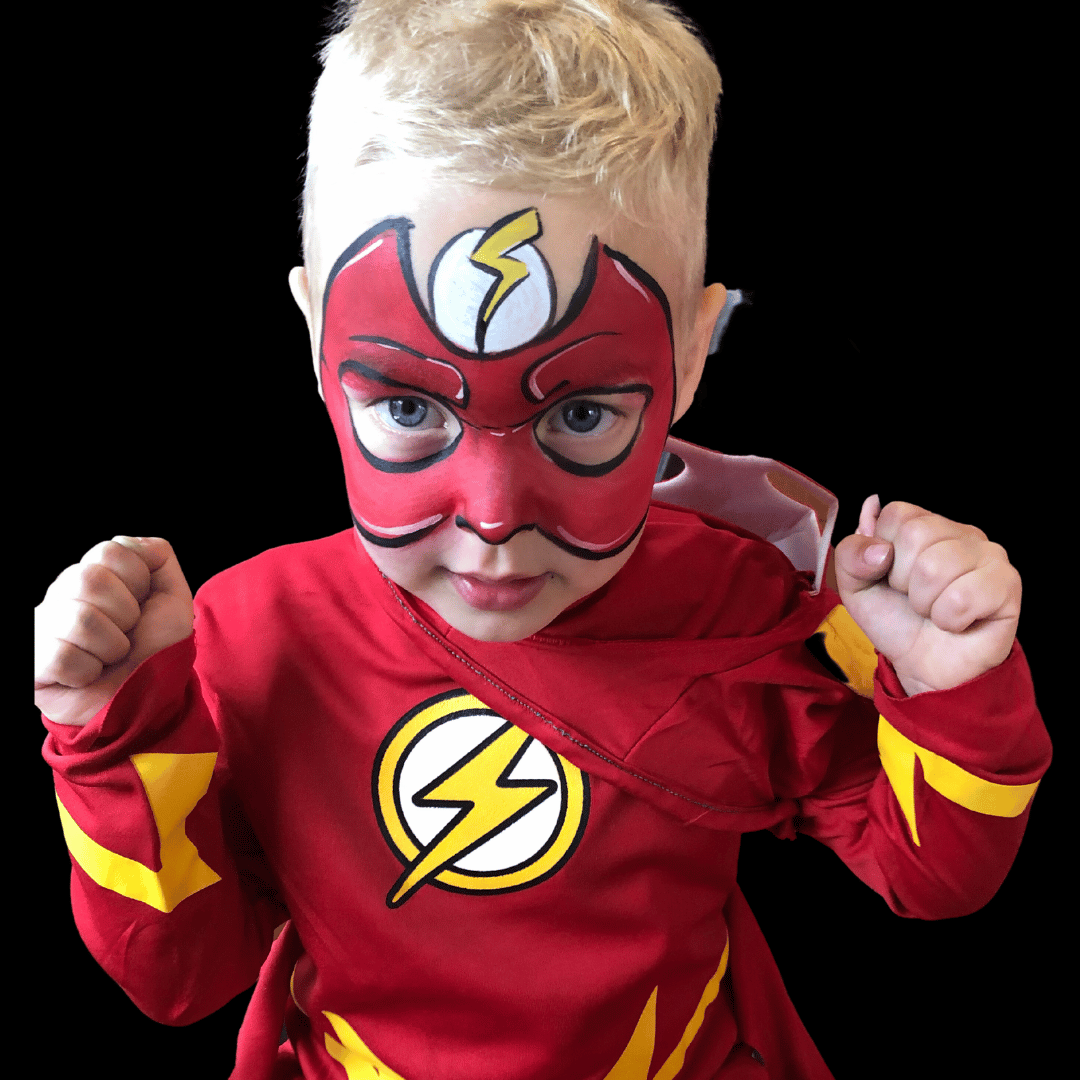 Learn Rainbow Face Paint
Here are the steps to create a vibrant and colourful rainbow face paint design that is sure to impress:
Use a brush to paint a rainbow across the cheeks and forehead, beginning with red at the top and gradually transitioning to purple at the bottom. Blend the colours together to create a seamless effect.




Tip: A one-stroke rainbow paint can make this task effortless.

Once your rainbow is complete, it's time to add some extra touches to really make the design pop. Consider adding clouds, stars, unicorns or other details around the rainbow to create a whimsical and enchanting look.

Finally, use black paint to add small details such as raindrops or other designs. This will help to add depth and dimension to your creation, making it stand out even more!
With these simple steps, you can create a stunning rainbow face paint design that is sure to turn heads and impress everyone around you. So go ahead and let your creativity run wild – the possibilities are endless!
Check out this 'Rainbow Face Paint' below: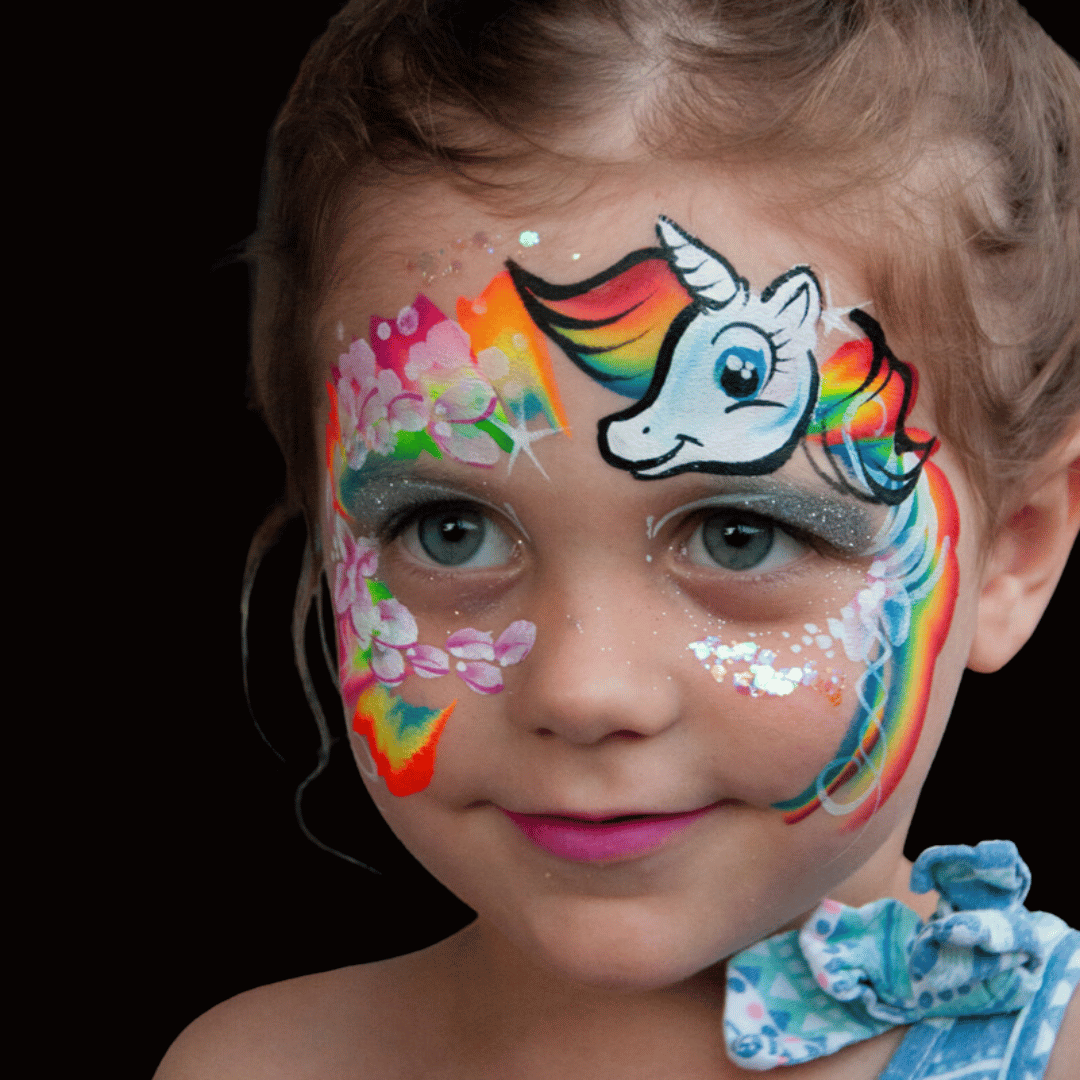 Learn Tiger Face Paint
Follow these tips to create the perfect tiger face paint:
Research tiger colours and patterns for inspiration. Consider different shades of orange, black, and white and study the patterns on a tiger's fur to replicate them as closely as possible.

Start by using white paint to cover the eyes and mouth of the tiger. Then blend yellow and orange together using a sponge and apply it over the base of the tiger's face.

Tip: Make sure the paint evenly coats the entire surface.

Use the brush to apply black tiger stripes around the cheeks, forehead, and chin. Be sure to use steady, confident strokes to create a bold and striking pattern that will turn heads

.

T

ip: Don't be afraid to experiment with different thicknesses and angles to achieve the desired effect. With a little practice, you'll be a pro at creating this fierce and fashionable look!

To add some white tiger teeth, you can use white paint on a brush to create the desired shape and size.

Tip: Be sure to let the paint dry completely before touching or using the item.

Add shimmer or glitter for extra pop. Use a glitter spray or brush to highlight certain areas, such as the tiger's whiskers or nose, and make the face paint truly stand out.
With these steps, you'll have the tools to create a unique and beautiful tiger face paint that is sure to impress. Whether it's for a birthday party, Halloween, or just a fun day of face painting with friends, this tiger design is a classic that never goes out of style.
Here's a photo of our staff painted as a 'Tiger'!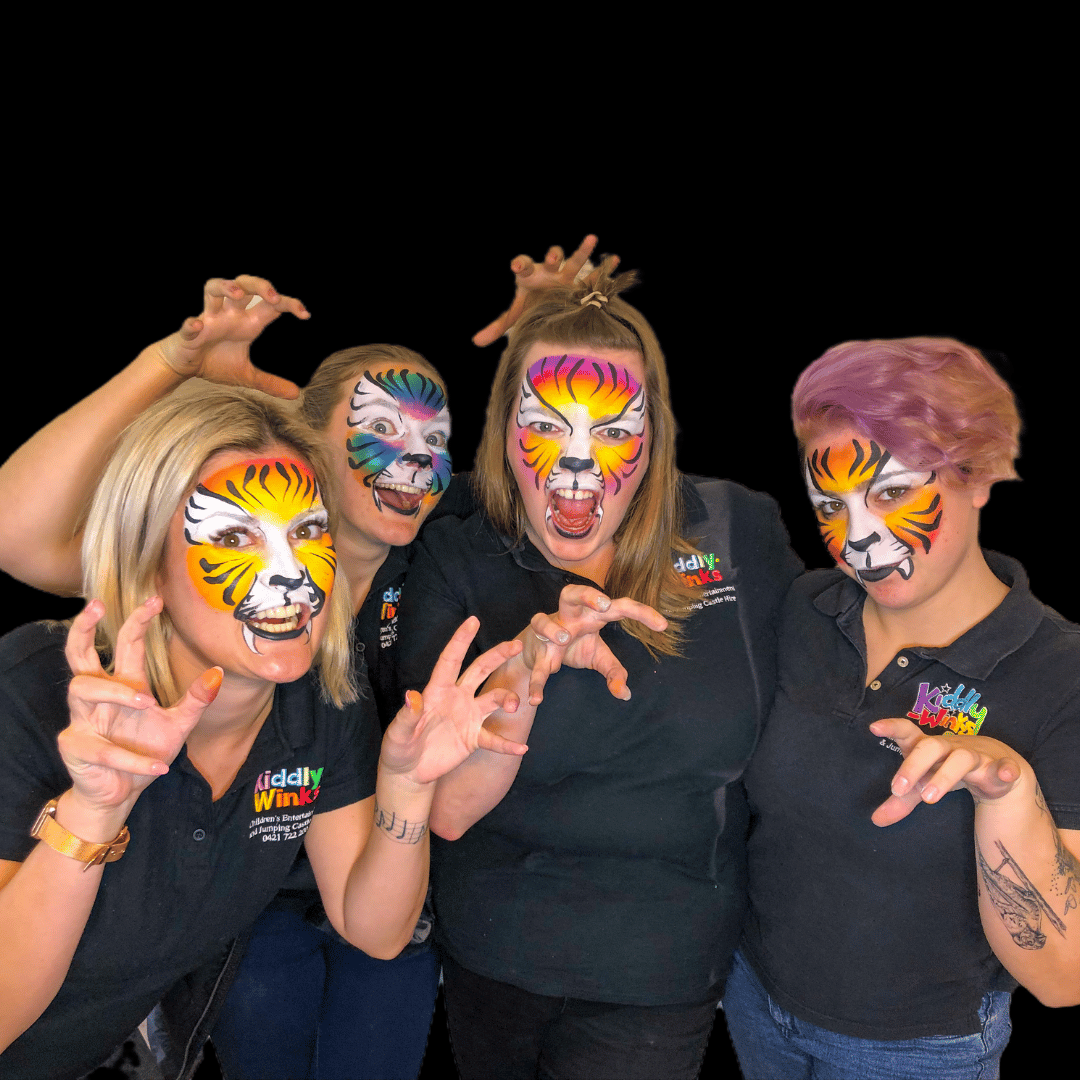 Learn Unicorn Face Paint
Here's how you can transform your child into a magical unicorn with this enchanting face paint design:
Begin by painting the face or forehead with a light base colour, such as white or pastel pink, using a sponge or brush to ensure even coverage.

Using a thin brush, create a colourful and textured mane along the forehead and cheeks by blending multiple colours, such as pinks, purples, blues, and greens. You can add some dimension to the mane by layering the colours and creating different lengths of brush strokes.

Tip: Explore the creative possibilities by using a range of vibrant one-stroke paints to craft unicorn-inspired hair with a burst of colour.

Paint a golden or silver spiral on the forehead for the unicorn horn, and add some shimmer with glitter.

Tip: You can use a stencil ..or create the shape freehand.

Complete the look by outlining the design with black paint. You can add some depth and definition to the mane by outlining each colour with a thin black line.

Enhance the mystical creature by adding small details such as stars, flowers, and highlights. Use a small brush and white or silver paint to create beautiful highlights on the horn and mane.
Enjoy creating this magical look for your little one, and let their imagination run wild as they become beautiful unicorns!
Check out this 'Unicorn Face Paint' Below: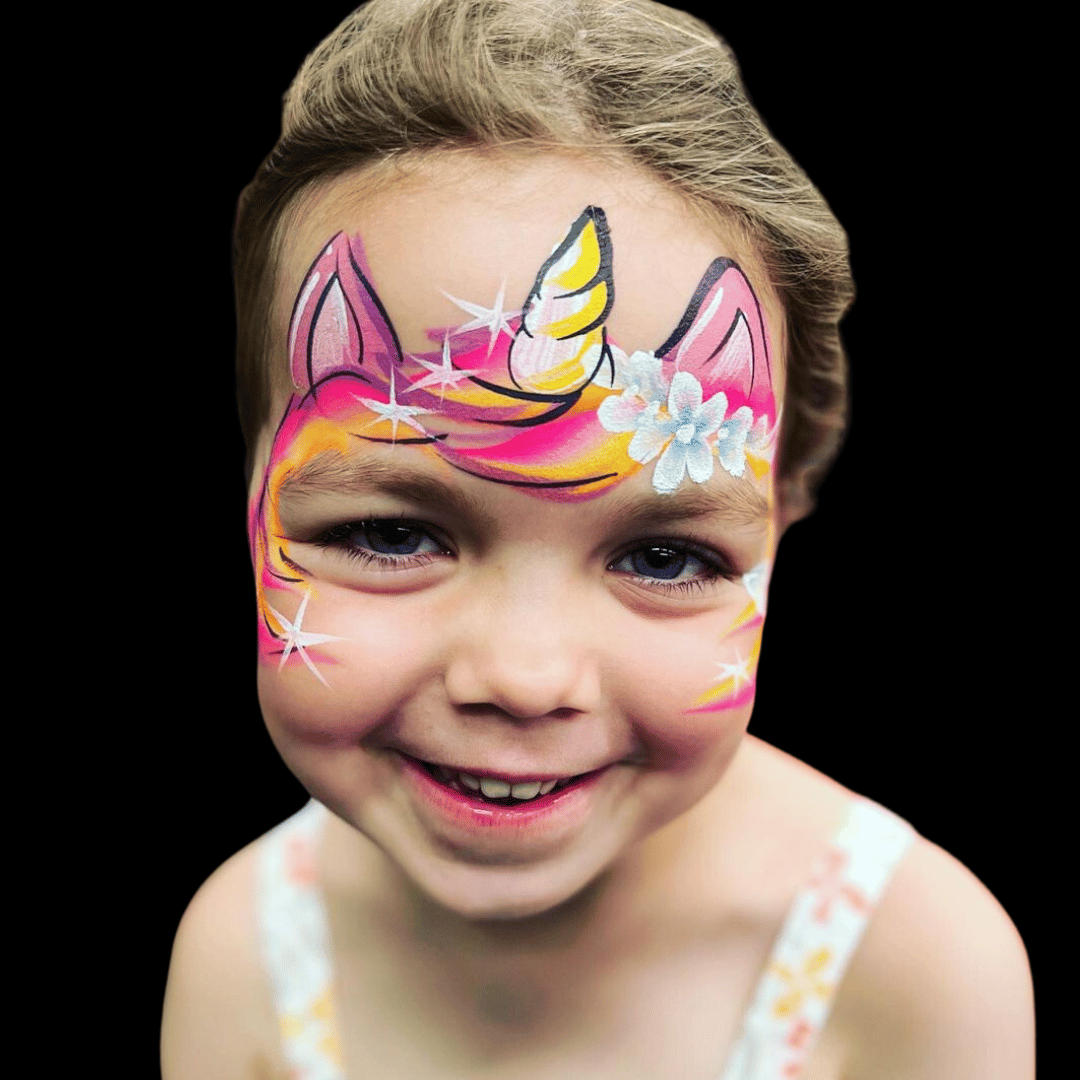 Learn Mermaid Face Paint
Here are the steps to create a stunning mermaid face paint design:
Begin by applying blue and green paint to the face to achieve a vibrancy that mimics the colours of the ocean. Don't be shy, add layers of paint to create a stunning watercolour effect.

Once the base layer is dry, use a mermaid stencil or paint brush to create scales on the forehead and cheeks with purple or turquoise paint. The scales will give your design the desired mermaid look.

To add depth to your mermaid face paint design, incorporate lighter greens and blues to draw seaweed and sea creatures. These elements make the design come alive and capture the essence of the ocean.

Sprinkle glitter on the scales and around the eyes for a mystical touch. This will add to the magical and whimsical nature of the design.

Voilà! You now have a beautiful mermaid-inspired face paint design that is sure to make a splash at any event.
Check out 'Mermaid Face Paint' below: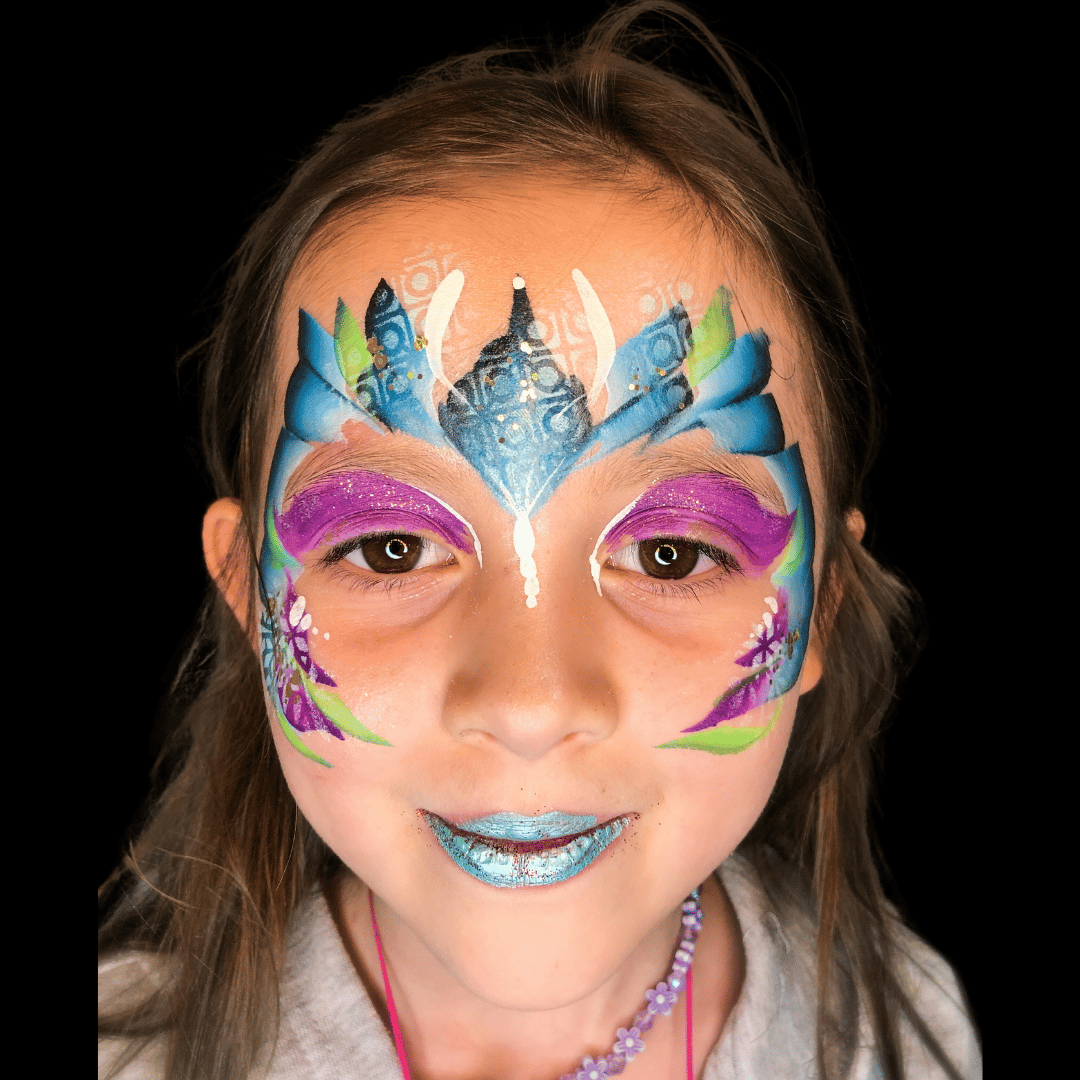 Conclusion
Face painting is a fun and creative way to add excitement to any occasion. With the above ideas, you can now create some truly unique and impressive designs. Don't be afraid to experiment with colours, patterns, and techniques. Let your creativity shine, and don't forget to have fun!
At Kiddly-Winks Children's Entertainment, we understand that not everyone has the time or confidence to create these amazing face paint designs themselves. That's why our team of expert face painters are here and ready to bring the magic to your child's party or event. Our experienced artists have a vast array of designs and skills, ensuring that each child's face becomes a unique and enchanting canvas.
Whether it's a birthday party, christening, school fair, or a themed event, Kiddly-Winks Children's Entertainment is prepared to make it a memorable experience. We use only the highest quality, non-toxic paints and materials, ensuring a safe and enjoyable time for all. Let us handle the artistic details, so you can focus on enjoying the special moments with your little ones. With Kiddly-Winks at your side, your event will be filled with smiles, laughter, and unforgettable memories.
Subscribe to our email list to receive exclusive deals and discounts. Stay in the loop and be the first to know about our latest services.