Face Painting Ideas and Designs Melbourne
Smiles guaranteed with our creative approach to Face Painting
Trusted by 11,000+ parents
Over 600 five STAR REVIEWS
13 years of kids party experience
The Magic Touch of Professional Face Painting
Face painting is such a timeless tradition, loved by kids and adults alike for centuries. Whether it's christenings, cultural festivals, or just modern parties, amazing face painting has become a must-have for fun and entertainment.
If you want to take your kid's party to the next level, hiring professional face painting services is the way to go. Not only will it add an extra layer of excitement, but it'll also ensure the safety and enjoyment of all your guests.
Kiddly-Winks has some talented artists who can mesmerise your guests with their exceptional face painting skills.
So why wait? Let's make your party unforgettable!
See Some Of Our Face Painting Designs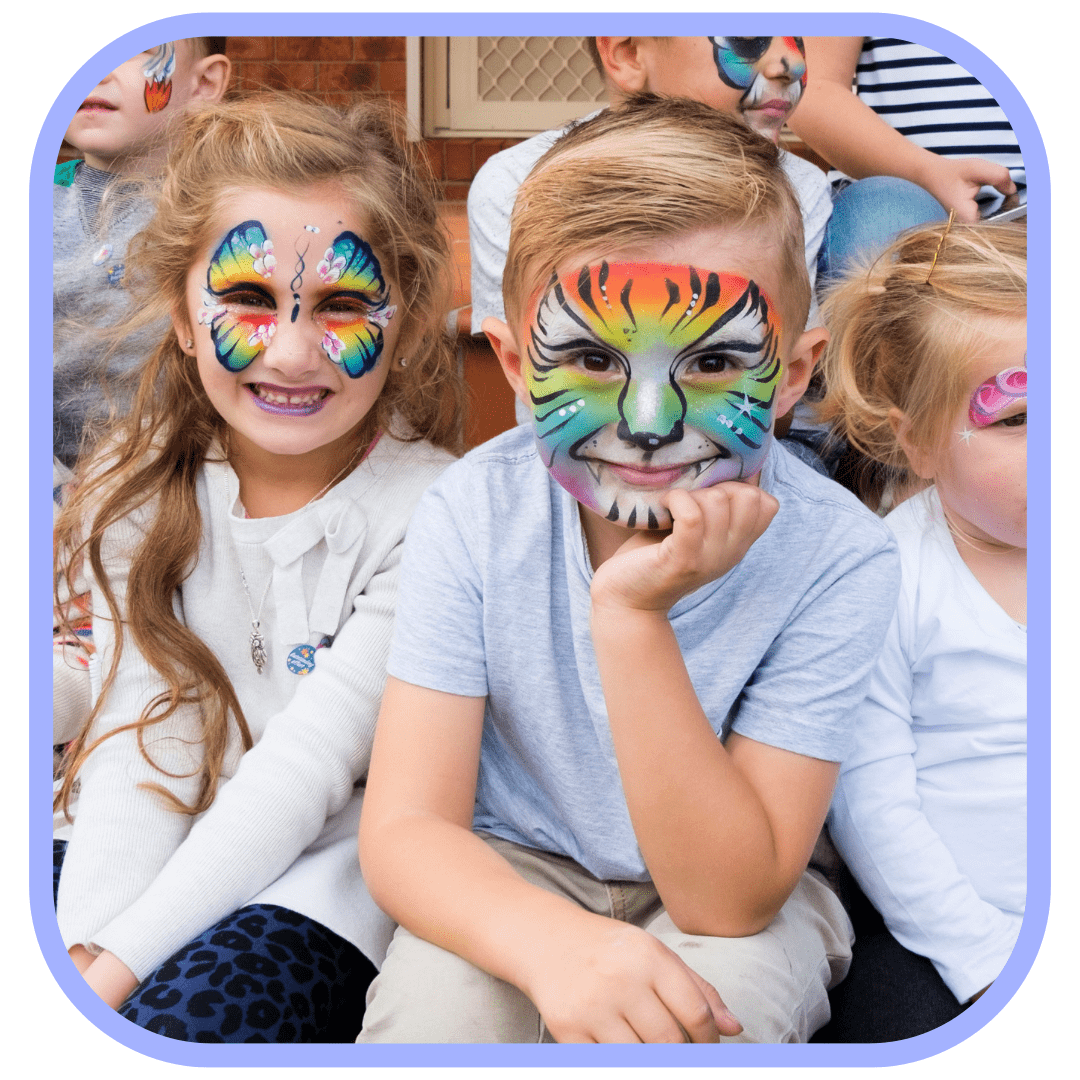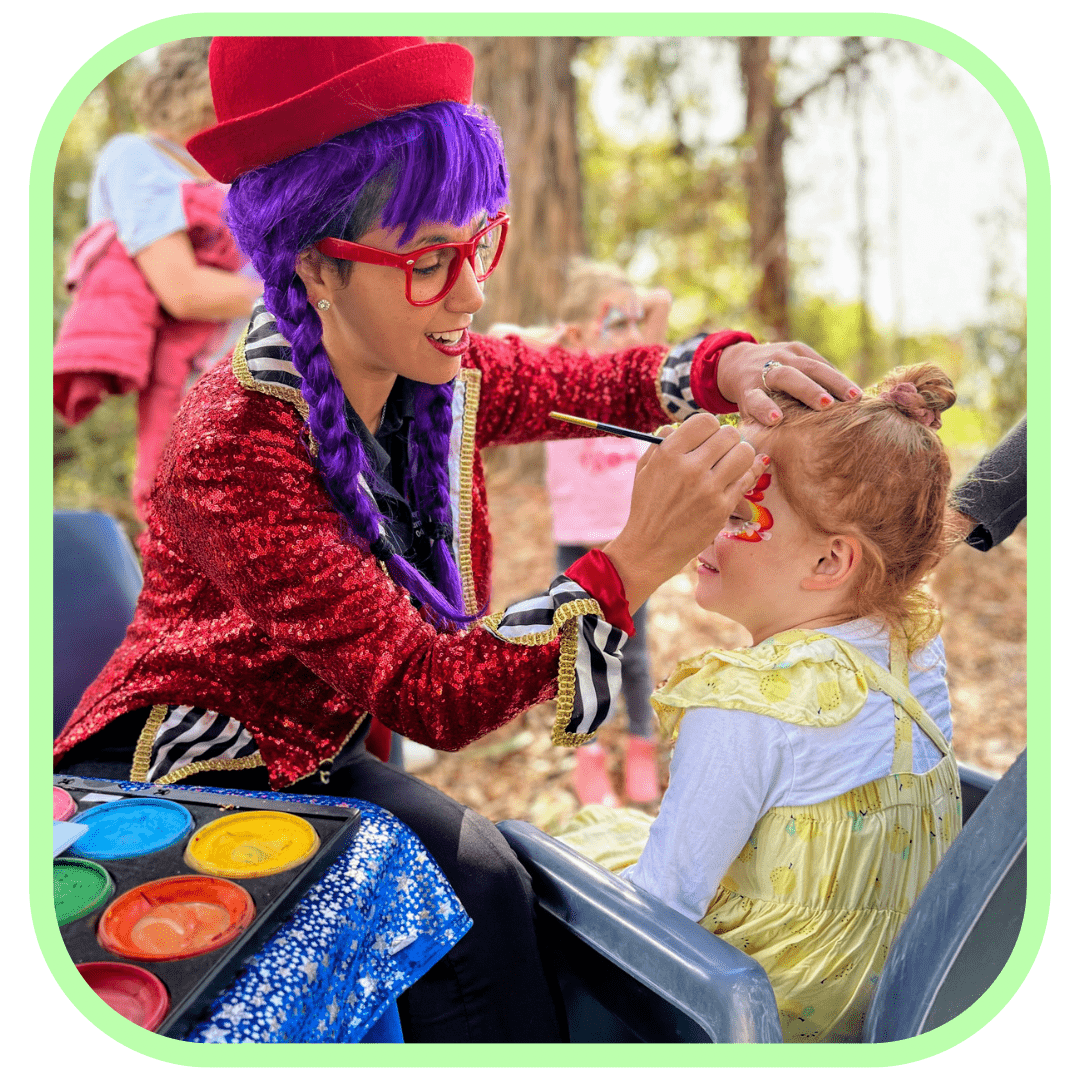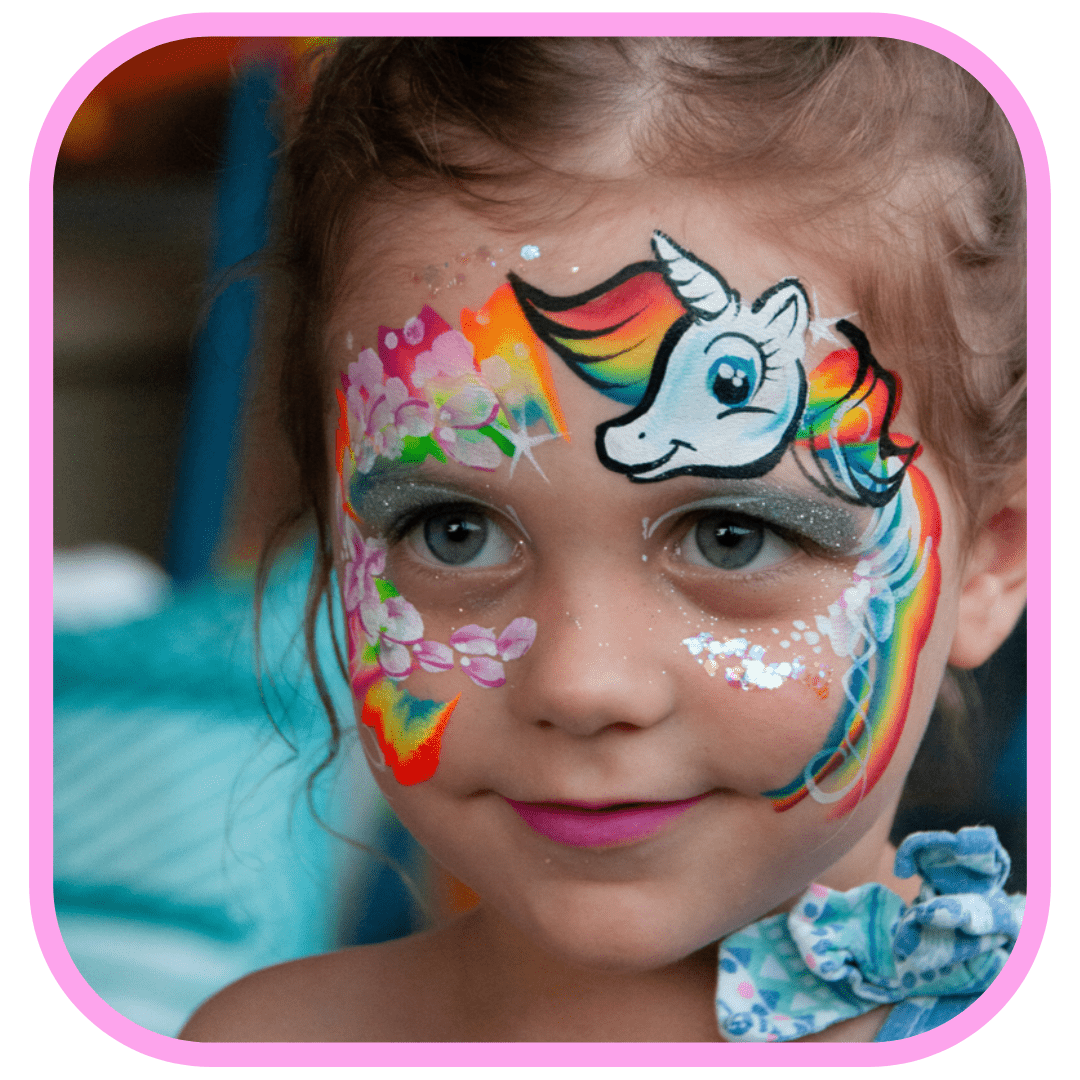 Our Approach to Professional Face Painting at Kiddly-Winks
Face Painting Ideas for Kids
Over the past 25 years, we have collected a range of popular designs for children's face painting at Kiddly-Winks. We've even created our own versions to ensure that each design is unique and one-of-a-kind.
Some of the all-time favourite designs include Spiderman, skeletons, butterflies, tigers, puppies, and more. These face painting designs are guaranteed to bring smiles to children's faces and allow our talented face painters to showcase their skills.
Plus, all of our entertainers have successfully completed their face painting course at the Kiddly-Winks Academy. They are skilled at bringing children's imaginations to life and creating designs that perfectly complement any party theme.

Different Types of Face Paints & Face Painting Kit
At Kiddly-Winks, our entertainers use a wide range of vibrant water-based face painting colours. We have a colour to match every beautiful face paint design you can imagine, whether it's superheroes or princesses.
Their face painting kits also include unique multi-coloured one strokes for quick, speedy designs, and vibrant split cakes for stunning, eye-catching creations. They also use face painting stencils and cosmetic grade glitter too!
*All of our cosmetic grade, face and body paint comes from our very own Kiddly-Winks face paint shop.
Face Painting Safety and Hygiene
At Kiddly-Winks, we understand the importance of safety and hygiene. That's why we use only hypoallergenic, cosmetic grade, non-toxic face paints that are gentle and kind to even the most sensitive skin.
Our face paints are FDA-approved and we maintain high hygiene standards to ensure the safety of every child.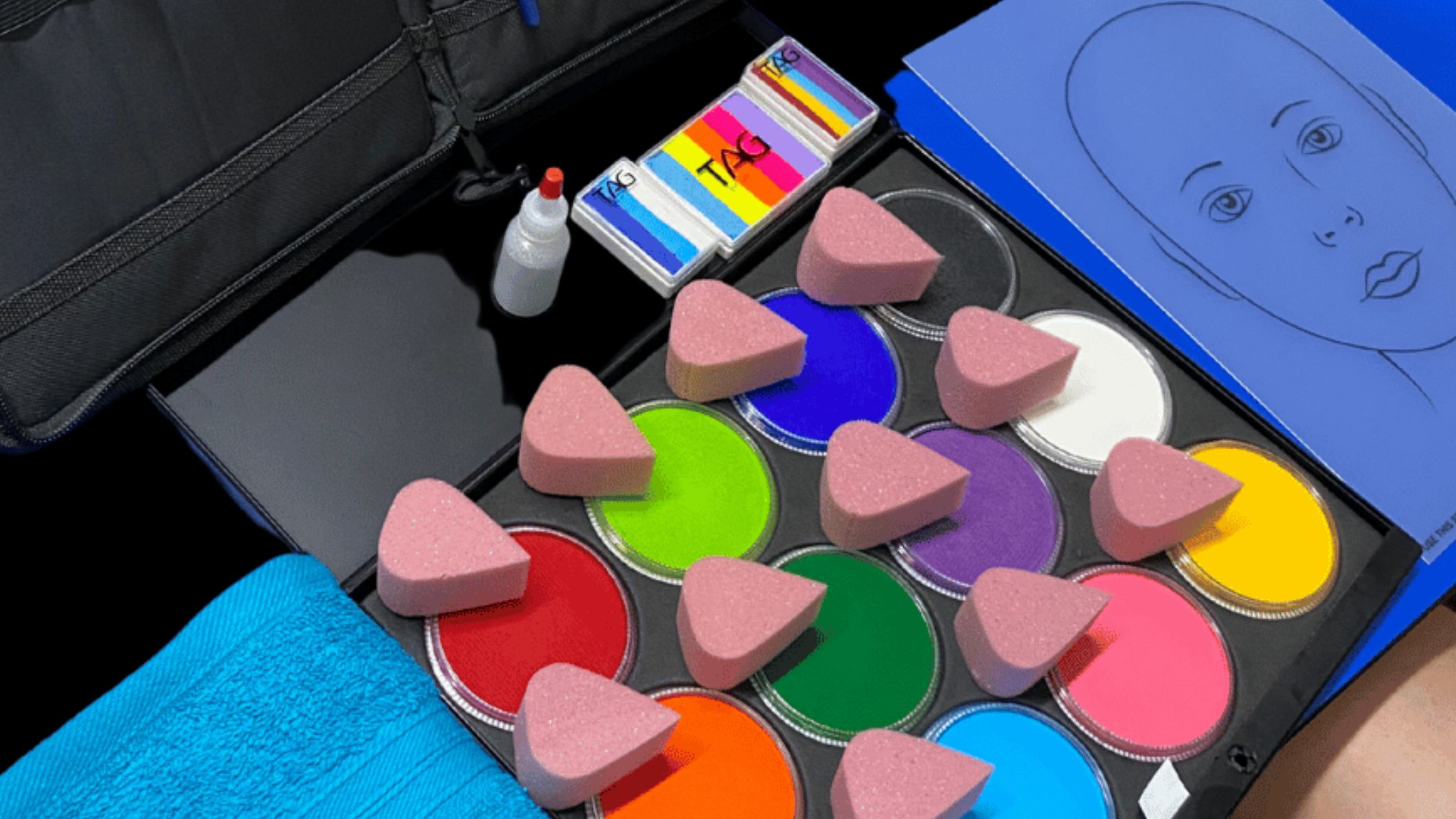 Face Painting Insurance and Public Liability
At Kiddly-Winks, we can offer you peace of mind and a stress-free party experience. Our entertainers are fully qualified, have public liability insurance, and have undergone working with children checks.
Step-By-Step Face Painting DIY Face Painting Guides
Ever wondered what it would be like to learn face painting. Explore our DIY guides for fun and easy face painting designs. These step-by-step instructions are perfect for parents and beginners looking to add a personal touch to their child's party.
Butterflies
Rainbows
Tigers
Superheroes
Mermaids
Unicorns
By following the clear instructions, you can effortlessly practice your face painting abilities and create impressive designs with ease.
You can check out the blog here: Get Creative With These Fun and Easy Face Painting Ideas 2023. With practice and patience, you'll soon be able to create stunning face painting designs that will bring joy to both kids and adults.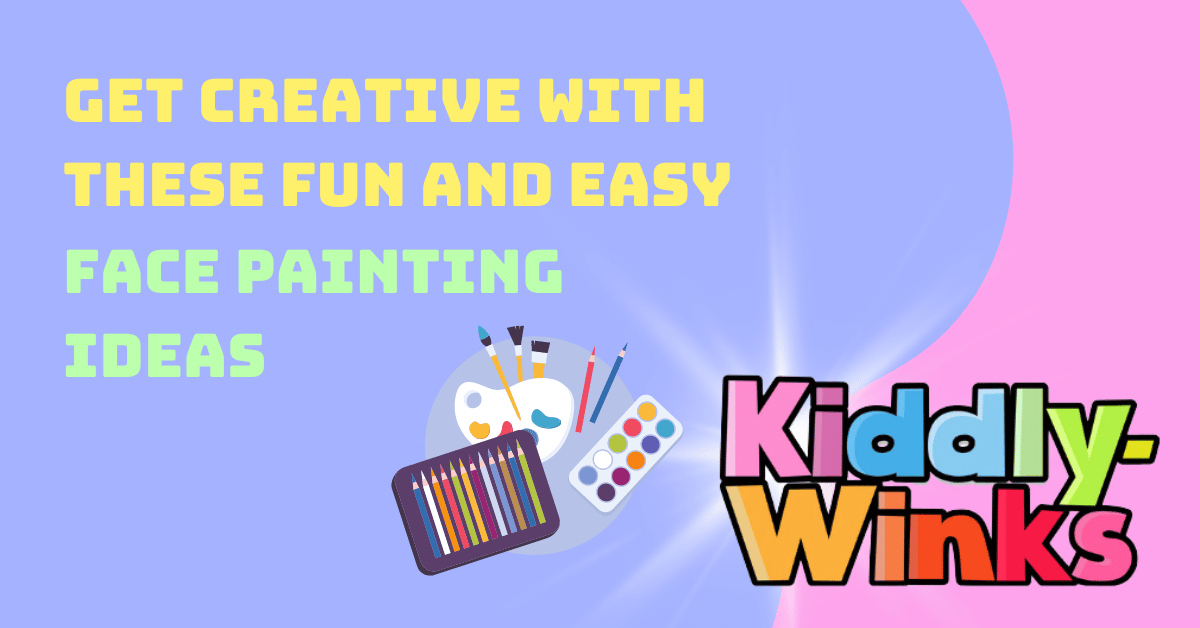 Booking Kiddly-Winks for Your Next Event!
Whether you're planning a kids' party, corporate event, or special occasion, Kiddly-Winks is the top choice for professional entertainment services in Melbourne.
We offer:
Balloon twisting
Magic shows
Games and activities
With over 13,000 delighted audiences and more than 600 five-star reviews, you can trust Kiddly-Winks to provide an unforgettable experience for your guests.

Professional Face Painting Near me in Melbourne
Want to book a face painter? Contact us for your next event in Melbourne and let us add a burst of colour and fun!